I'm currently taking requests for digital piano repairs, and will do my best to accommodate and respond within 24 hours. I'm authorized by Yamaha and Roland, and can do warranty work.
Due to an unprecedented number of requests, I'm currently unable to take new piano tuning customers. However, I will continue to serve my regular customers, and am tremendously grateful they continue to choose me to care for their pianos!
If you're a regular customer of mine, please reach out as normal, and I'll be delighted to hear from you.
If you're a potential new piano tuning client, I can recommend several local piano technicians with openings:
My father, Eric Peppe, is now also full, but if you've previously scheduled an appointment and are looking to reach him, his email is [email protected]. His phone is (207) 400-6011.
— Alexander Peppe, 7/29/23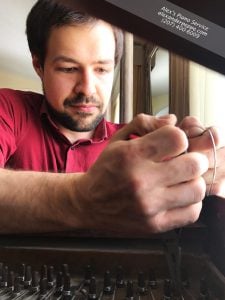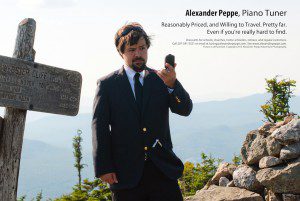 Pianos go out of tune as humidity changes. Here in Maine, humidity is highly unpredictable: Constant small fluctuations in humidity mean your piano can go out of tune even more quickly than in other parts of the country.
Piano tuning is the most basic and important step in piano care, and tunings should be performed twice a year. Getting your piano tuned regularly will keep it sounding the best that it can, and will also prevent it from shifting so far that it's difficult to tune to concert pitch again. If your piano is very out of tune, it may require a significant pitch adjustment.
Pianos that have not been tuned recently or that have been exposed to especially large humidity swings may require a pitch adjustment. These adjustments are quick tunings that bring the piano closer to concert pitch before the fine-tuning.
If the piano is exceptionally out of tune or has not been tuned in many years, it is sometimes necessary to come back and tune the piano within several weeks. I have a couple of tuning samples of the sorts of recoveries these pianos can make! Brand-new pianos also require more frequent tuning for their first year.
Wondering if your piano is out of tune? Compare it to standard A440 pitch. Call (207) 306 – A440 and see how your middle A key compares to that tone!
Humidity is the primary factor in how well a piano holds a tune. Humidity control in homes, using air conditioners, dehumidifiers, and/or humidifiers, helps keep your piano in tune and in good shape. Ideally, well-kept pianos can entertain families for more than a century, and nothing adds to their longevity like stable humidity! Humidity level, in the room the piano is kept, should be 42-45% year round. If it's impractical to control the humidity in the room, I do install Dampp-Chaser Piano Life Saver Systems.
For scheduling, call (207) 531-5299 or email [email protected].
I had my first tuning with Alex last week. He was extremely knowledgeable and skilled. He was also professional and enjoyable. I'm the kind of person who likes to watch and learn, and Alex welcomed the opportunity and was a great teacher! I confidently booked my next tuning. I highly recommend him!

Rhee M.

I've had Alex as my tuner for 7+ years and have always been more than pleased with his work. He is so enthusiastic about pianos and is extremely knowledgeable about them! I would recommend anybody to Alex for affordable, family-owned, high quality service.

Jacob L.

Alex is awesome! It's always a great experience when he stops in to tune the piano- well versed, professional and very polite. The piano always plays twice as nicely after Alex has performed his magic. Highly recommend!

Nicole G.

Alex did a wonderful job on my piano. He is very knowledgeable! I am not able to be home while he is there, and I trust him completely in my house with my cat. My cat also gives him 5 stars!

Pete C.

Wonderful technician! He is very concerned with his clients, their instruments, and his reputation and goes to great length to protect them all. Bravo Alexander!

Rich G.

Just had Alexander Peppe tune my Steinway Baby Grand yesterday. He was just terrific. He arrived exactly as he said he world, with really the most pleasant, engaging smile. He did a great job tuning my piano. I would recommend him to anyone – he is quiet, efficient, knowledgeable, willing to answer questions, and just really so very pleasant.

Rosalie B.

Alex is very professional, friendly and thorough. My piano always sounds fabulous after he tunes it! I would recommend Alex's Piano Service to anyone in need of having a piano tuned.

Lara B.

Alex has been tuning my piano for years now and always does a fantastic job! He's very friendly, even with our grumpy orange tabby, Radar 😊! I highly recommend Alex.

Dawn L.

Alex has been tuning my Yamaha grand since I purchased it, four or five years ago. He is fantastic at his job. When he leaves my piano virtually sounds like chimes. The sound is so clean and clear. I whole-heartedly recommend him.

Kathleen W.

Alex has tuned my Yamaha C7 for a long time now and is excellent at his craft. Always impressed after he's completed his work.

Vaughn D.

Alex has been tuning my piano for years. He is thorough in his care for the whole instrument and stands behind his work. I would recommend him to anyone.

Joyce D.

Alex is a terrific piano tuner and wonderful guy. He's prompt, responsible, friendly, and takes terrific care of our Yamaha upright.

Barb O.

Alex is extremely knowledgeable about all things piano, diagnosed all of the issues with my 1950s Lester piano, and made it sound playable again. You can trust he will do a good job.

Chris K.

Terrific work tuning up our beloved piano which had not been tuned in 7 years and had survived a move! Very personable and happy to learn he was following in his father's footsteps (our former piano tuner!) Highly recommend.

Karen K.

Alex communicated well prior to our appointment, and was professional, friendly, quite knowledgeable and patiently tuned our piano through a construction project going on directly overhead. Piano sounds great, and we will be using him for all future maintenance!

Becky H.

Alex does a phenomenal job. Great attention to detail. He goes the extra step to ensure your piano is in top form. And, at a very reasonable price. Very professional.

Don J.